GeoTrust QuickSSL Premium DV SSL
GeoTrust QuickSSL Premium DV
QuickSSL Premium DV SSL
by GeoTrust

GeoTrust QuickSSL Premium DV SSL
GeoTrust's QuickSSL Premium DV SSL certificate is our most popular single-domain certificate. Enjoy fast, no-hassle issuance with built-in trust for all popular web browsers and mobile devices. Buy with confidence knowing that your purchase is covered by our 30-day 100% refund guarantee. Each QuickSSL Premium certificate includes first-class technical support and a GeoTrust secure trust seal.
Years
Domains
GeoTrust List Price
Our Price
You Save
1
1
$149
$79
$70
2
1
$283
$151
$132
3
1
$417
$222
$195
4
1
$551
$293
$258
5
1
$685
$364
$321
6
1
$820
$435
$385
SSL/TLS Product Details
X.509 format Certificate meets software & industry standards
Symmetric 256-bit encryption
Supports 2048-bit public key encryption (3072-bit and 4096-bit available)
Unlimited server licensing
Free reissues and replacements for the lifetime of the certificate
RSA public-key SHA-2 algorithm (supports hash function: 256)
ECC public-key algorithm (supports hash function: 256)
RSA and ECC algorithms available by providing an RSA CSR or ECC CSR
Supports minimum 2048-bit public key encryption (3072-bit and 4096-bit available)
Basic DV SSL Key Features & Benefits
Includes a GeoTrust Trust Seal for your site!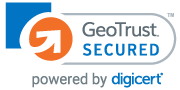 sample
Authorized Trust Seals are a clear signal of trust to visitors of your site. The "powered by DigiCert" website Trust Seal is an important visual indicator of a site's trustworthiness. In fact, a recent Frost & Sullivan study found a site seal from a respected brand is one of two primary factors internet users of all experience levels take into account when judging a site's legitimacy.
Try it for 30-days!

Buy it, install it and try it out. Cancel for any reason within 30-days of issuance for a full 100% refund.

Get it in just 10-minutes

DV certificates can be issued in just minutes. Buy it today, get it today.

No paperwork required

DV certs only require you to demonstrate proof of domain-control by email, DNS, or file authentication.