Extended Validation (EV) SSL/TLS Certificates
Extended Validation (or EV) SSL certificates offer the highest level of online trust available. All EV certificates must undergo a specific, audited process of authentication using known effective techniques. Extended Validation certificates enable the "green address bar" in popular browsers to show visitors that the identity of a site is highly authenticated and to reveal the identity of the organization operating this site.
Extended Validation (EV) SSL
Maximize user trust (and transactions) with the EV green address bar
Extended Validation Multi-Domain SAN SSL
Secure multiple domain names with EV. The ultimate in trust!
EV certificates have been shown in testing to increase transaction rates because they improve visitors' trust in a site's authenticity. EV certificates are available in standard and multi-domain forms.
Furthermore, an Extended Validation certificate causes the browser to display the name of the SSL Certificate Authority that issued it. GeoCerts sells Extended Validation certificates from highly reputed SSL providers like Symantec, GeoTrust, and Comodo. Choosing EV SSL certificates from trusted Certificate Authorities like these gives site visitors further confidence that their online experience is a secure one.
How EV Is Displayed in Popular Browsers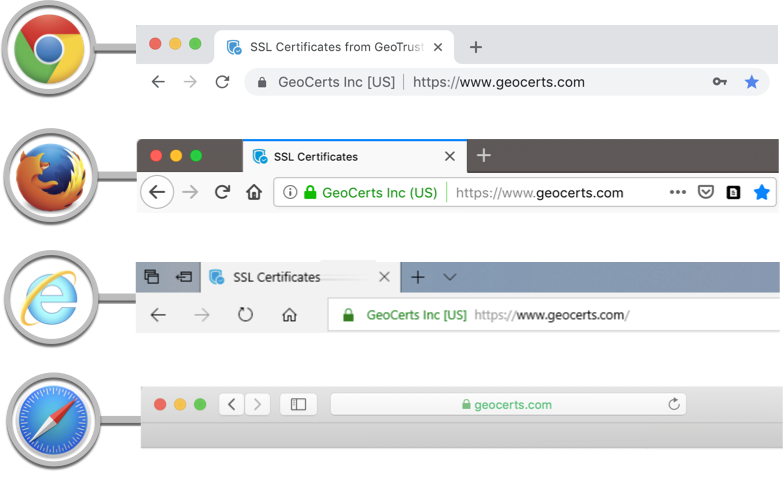 Choose Extended Validation SSL certificates for circumstances where security or trust are highly important. Certain industry or regulatory standards (such as PCI) may require Extended Validation to achieve compliance. Select EV for sites that may be mimicked by phishing attacks to steal login credentials, credit cards, or personally identifiable information (PII).
And be sure to use EV certificates in any circumstance such as e-commerce where it is valuable to maximize response rates.